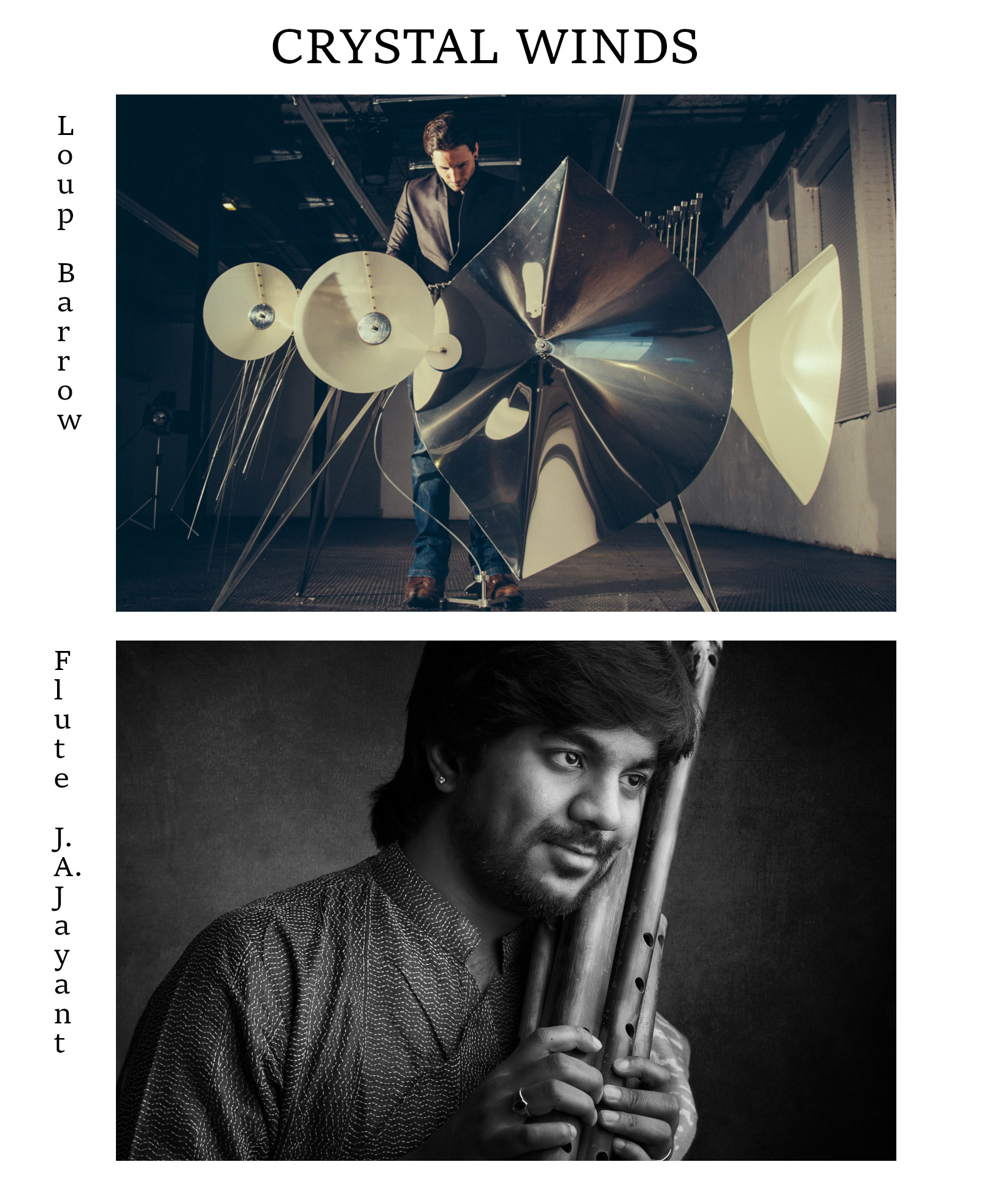 Born last February at the famous Sacred Spirit Festival in Jodhpur, this meeting which could have seemed in the realm of the improbable, thanks to the personalities of Loup Barrow and Flute J. Jayant finally became that of the inevitable. One, by the choice of one of the most unusual instruments of the XX century, the other by his revolutionary virtuosity, are in their own way "diggers" ("those who dig", a term very much in vogue nowadays!), being constantly in search of new sounds with this need to share a knowledge acquired in an incessant nomadic quest.
It is this quest, during a trip to Venice, that will make Loup Barrow discover the glass harp, the Seraphin (set of tuned glasses). Upon his return to France, he made his own instrument (with three 1⁄2 octaves before soon discovering the Cristal Baschet: the last polyphonic instrument designed in Paris. He would meet one of its inventors Bernard Baschet, one of the Baschet brothers, both of whom were behind this chromatic instrument in 1953, made up of, among other things, glass rods that are caressed with the fingers. The Cristal Baschet offers infinite possibilities of playing, allowing Loup Barrow to play in a wide range of styles, from classical to contemporary or minimalist music, as well as traditional music, notably in a duet with the Chinese erhu player, Guo Gan.
In this new musical approach, as was the case on the shores of the Mehrangarh Fort lake in Jodhpur, the Cristal Baschet propagates its acoustic waves, in an ethereal way, intertwining with the sharp meanders of the bansuri flute of J. Jayant. The modal context built on the art of raga, allows to decline a hallucinating sound spectrum, punctuated by this rhythmic virtuosity, almost mathematical dear to the carnatic music. The story of J. Jayanth, affectionately called "Flute Jayanth", was born into a family of musicians as is often the case in the world of Carnatic music. From the age of five, he naturally trained on the bamboo flute in the tradition of Indian classical music (guru-shishya parampara) with his grandfather and guru, the late Kalaimamani Flute T. S. Sankaran, Jayanth has learned a unique and virtuosic fingering and blowing technique that allows him to express his music beautifully, especially in subtle lower octaves, on the thick-walled bamboo bass and contrabass flutes. Driven by this perfect pitch ("suddham" in Carnatic music), his expressive playing brings out the depth and soul of the lyrical aspects of the compositions he presents (gayaki).
Alain Weber
Unusual and unexpected meeting between the Guo Gan's traditional erhu (two-stringed Chinese violin) and the rare and unconventional instruments (Hammered Dulcimer, Hang, Din Pah, chromatic Mbira, Cristal Baschet, Glass Harp) here in the hands of the Master Loup Barrow. Mysterious tools sometimes more exotic than the Chinese erhu, sources of ancestral sounds, rich in contemporary charms able to contextualize uniquely not only original compositions, but also the classical pieces of Chinese tradition.


Album "The Kite", Felmay Records, 2022
Two brothers for an unusual duo. Loup Barrow takes on a long-standing project, collaborating with his younger brother Joe-Neil Solan, a young drum prodigy. Together, they create a frenetic, joyful vibe that runs through Loup Barrow's compositions, co-arranged by the two brothers. Their music is a reflection of their relationship, full and free, marked by great connivance. The two virtuosos intermingle and challenge each other, the better to find each other again and draw the listener into a rhythmic explosion, source of their work.
Album release scheduled for early 2024