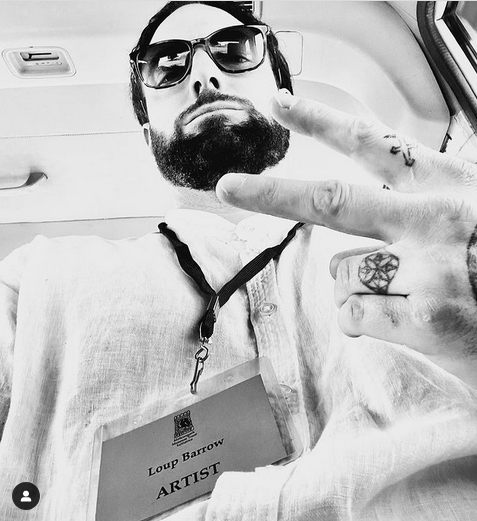 With artist J.A. Jayant and mridangam artist Akshay Anantapadmanabhan, Carnatic music meets the music of Loup Barrow to become something truly frenetic, strange and wonderful.
Sacred spirit festival Jodhpur/RollingStone India.com 2023

The art of the gesture, the craft of the melody, the introspective quest: the key to Loup Barrow's universe probably lies in the conjunction of these three experiences and in his playing, his way of playing with resonances and sonorities and managing to weave a link between the incredible, almost
supernatural beauty of sound and the depth of his own soul.
Les Tombées de la Nuit

How to cover the Interstellar soundtrack to perfection? Demonstrated by Loup Barrow with his incredible instrument.
Trax Magazine

Loup Barrow's music has been "a quest" ever since he fell in love with instruments such as the Cristal Baschet, the Dulcimer and the Hang drum".
France 3

He has truly become an adept of the Cristal, making it the central element of his compositions. His atypical career path has made him a highly experienced artist, at ease in many different musical styles. His virtuosity and talent as a composer make him a fascinating artist who attracts other musicians in search of new and interesting sounds and fresh musical experience.
Antipode

Renowned for his expertise with the Cristal Baschet, the last instrument invented in 20th-century Paris, Loup Barrow has made rare instruments his speciality.
Virtuoso Night

A moment of magic in store, with a perfect interpretation of Cristal Baschet by Loup Barrow.
(Le Télégramme)

Flawless. The star-studded Locus Solus Orchestra, conducted by Loup Barrow.
Imprimerie Nocturne

French multi-instrumentalist Loup Barrow played Cristal Baschet at the valley's lowest point. The haunting, melancholy tones floated across the valley, mingling with the calm, turquoise waters of the sea lapping gently in the background.
The New York Times

Heard in France as a companion to pop stars, tattooed giant Loup Barrow will be playing his filigree four-and-a-half-octave instrument at Jazz and The City.
JazzPost

Loup Barrow plays a secret music that only he can play
France Culture

Yael Naïm's beautiful song accompanied by the sound of the mysterious "angel organ" played by Loup Barrow."
Molières ceremony

An unusual and unexpected encounter between master Guo Gan's traditional erhu player and the rare and unconventional Cristal Baschet, here in the hands of young virtuoso Loup Barrow.
Felmay

The Podlasie SlowFest, which takes place at Suprasi is packed with incredible musical events. Guo Gan, the ambassador of Chinese music, and the virtuoso of Cristal Loup Barrow, take us to the very edge of their sound universe (Wroto Podlasia).

Take off on a transcendental journey with Dominique A's "Adagio for a", sung by two incredible musicians.
Lylo
Howling Rider", on Loup Barrow's album "The Howling Rider"… magnificent.
ATK Studio
Podlasie's SlowFest, held in Suprasi, is packed with incredible musical events. Guo Gan, the ambassador of Chinese music, and Cristal virtuoso Loup Barrow, take us to the far reaches of their sonic universe.
Wroto Podlasia

Sébastien Leon Agneesens has teamed up with three-time Michelin-starred chef Alain Ducasse, rare-instrument musician Loup Barrow and the legendary Plaza Athénée, closed for a complete renovation, to create a memorable experience.
Krug en Capitale

When you see this young man arrive, it's hard to imagine him stroking glass rods. Built like a rugby player, it's a relief to discover an author and composer who doesn't lack sensitivity.
Tranzistor