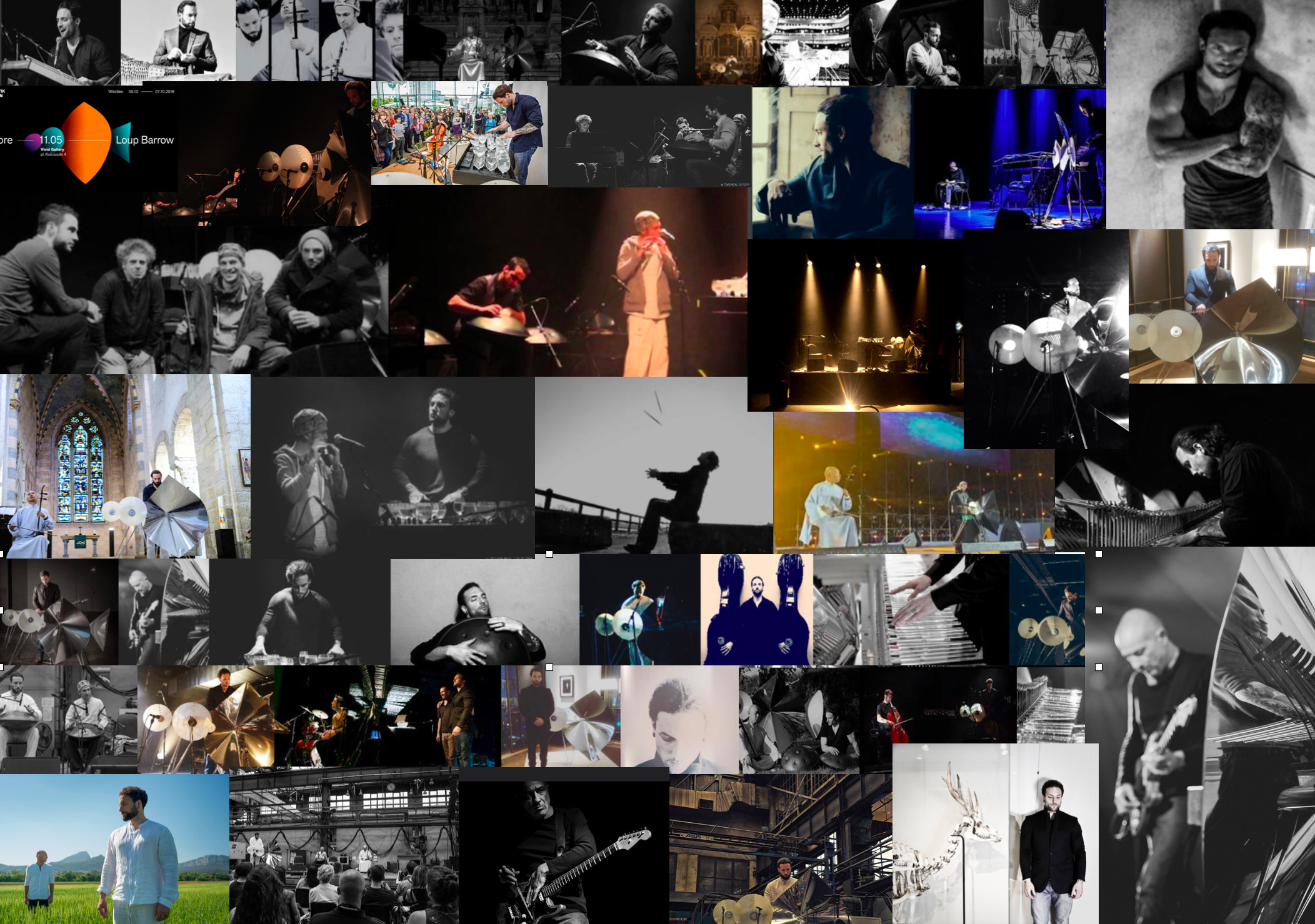 More than 2000 concerts and performances in 25 countries
Over the past twenty years, Loup Barrow has collaborated with many internationally renowned artists. Nadishana, Manu Delago, Thomas Bloch, Didier Lockwood, Yael Naim, Dominique A, Serge Teyssot Gay, Olivier Mellano, David Kuckhermann, Pauline Hass, Matthiew Slater, Grégoire Blanc, Ronan Maillard, David Donatien, Constantine Koukias, Sebastien Leon Agneessens, Radek Bond Bednarz, Joss Turndull, Mieko Myazaki, Sidi Larbi Cherkaoui…
His collaboration with the musician Guo Gan, a great master of the Erhu, made him travel many times in China where he met an extremely large audience. They release an album in 2014 : "The Kite" under the label Felmay Records. In 2019, Loup Barrow recorded the album "Silent Witness" in collaboration with Radek Bond Bednarz and Mieko Myazaki.
CONCERTS
Paris – Cérémonie des Molières / Yaël Naim – les Folies Bergères
England – Oxford – BBC – British tv show « Endeavour »
China – Fujian–«TvShow» Guo Gan
Festival Eklektik session /Poland – Wroclaw
Germany – Liepstig – Festival Ancient Trance
South Africa – Johanesbourg – The Bass Line – Cape Town – Planet Hollywood – Durban
Beaux-arts museum / Poitiers(86)Showcase for the musical King Arthur-Paris
Festival Generiq /Mulhouse(68)
Eglise de La Madeleine/ Guo Gan /Paris(75)
Planetarium / Festival Generiq /Belfort(90)
Chapelle st christophe /Lorient(56)
La Souris Verte /Epinal(88)
Poland Festival Vivid Gallery
Festival la déferlante(85)
La Sirène /La Rochelle(17)
Tambour /Rennes(35)
Le Confort Moderne/Poitiers(86)
Festival Domo /Doelan(29)
Deaf Festival/Rotterdam(Holland)
La Source /Fontaine(38)
Chato'do /Blois(41)
I Boat /Bordeaux(33)
Le Nadir /Bourges(18)
Théatre de la coupe d'or /Rochefort(17)
Fuzz'yon /La Roche sur yon(85)
Temps Machine /Tours(37)
Florida /Agen(47)
Festival Les scènes du châpiteau/Swiss Médiathèque /Combourg (35)
Auberge de corsas /Saint Victor(07) Cartier/Shangai(China)
Eglise de melas /Le Teil(07)
Petit Faucheux – Festival Super Flux /Tours(37) Akwaba/Chateauneuf de Gadagne(84)
Festival Travelling/Rennes(35)
Cap cinéma/Blois(41)
Théatre Epidaure/Bouloire(72)
Festival du film pour enfant/Lans en vercors(38)
Festival le tympan dans l'œil/Grenoble(38) Festival les vaches au gallo/louvigné(35)
La Cave aux poètes/Roubaix(59)
Salle St Gobain/Thourotte(60)
L'Ouvre boîte/Beauvais(60)
Ubu/Renne(35)
Podlasie Slow Festival / Suprasl (Poland)
Salle de la cité/Rennes(35)
Planet Holywood/Cap town(South Africa) Déferlantes/Vendée(85)
Banlieu Bleue/Paris(75)
Festival les Tombées de la nuit/Rennes(35) Locus solus Festival/LU/Nantes(44)
Festival les jeudis du port/Brest(29)
Support Act for Renaud Garcia Fons, Erik Truffaz Jayjay johnson
Le Musée Manoli Saint Malo
Festival les trois éléphants Laval
Transat en ville Rennes
Slow festival Suprasl Poland

SPECTACLES :
« Les Autres »
Théâtre de Chartres
Halles de Schaerbeek Bruxelles, Belgique
Ludwigshafen, Allemagne Theater im Pfalzbau
Théatre le Forum Fréjus
Veranstaltungsforum FürstenfeldFürstenfeldbruck, Allemagne
Le Point d'Eau Ostwald
Grande Halle de la Villette Paris
Théâtre Durance Château Arnoux
Festspielhaus Bregenz
Théâtre de Grasse Grasse
Saarlandisches Staatstheater Sarrebruck, Allemagne
La Coursive, scène nationale La Rochelle
Théâtre les Gémeaux Sceaux
Théâtre de la Colonne Miramas
Théâtre des l'Esplanade Draguignan
Le Toboggan Décines
EVENEMENTIELS :

Hermès
Norway
Paris
Cartier
China – Guangzhou –Shangai
Tokyo(Japan)
Krug
Paris/Plaza Athénée
In the company of world-renowned chef Alain Ducass
China – Guangzhou –Shangai – Cartier –